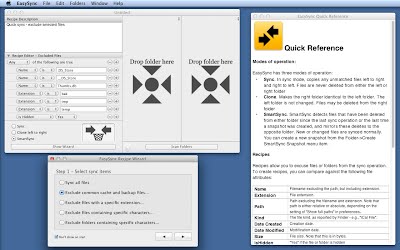 EasySync is the quick and easy way to synchronize any two folders, situated on your Mac, or on nearly anything connected to your Mac.
Easy to use
EasySync has one-click wizards for many common tasks, and is designed and built from the ground up for the Mac, so EasySync understands Mac items like bundles, symbolic links, etc. You can sync birectionally, or clone folders.
"Recipe" editor
"Recipe" editor that lets you build more complex sync functions with an easy to use graphical interface that works in plain English.
Power when you need it
If you need to do something more complex than just sync everything in a folder, you can easily build up complex sync rules that include or exclude files based on name, location, file type, file size, file dates, etc, etc. For really complex tasks you can even use regular expression matching.
Works with all your storage devices
Works not just on Mac disks, but also on Windows and Linux/Unix shares attached to your Mac, thumb drives, etc.
Safe
EasySync always first gives of a detailed preview of actions, so that you can accept or reject them.
Compatible
EasySync works with any version of macOS all the way back to Lion (10.7.5). And of course, it's fully macOS Mojave optimized.
EasySync is a powerful but easy-to-use application that synchronizes and two folder folders on your Mac. EasySync works on local hard drives, folders shared from other Macs, Windows shares, Linux shares, NAS units, USB drives, CF cards, SD cards - just about any location you Mac can access.
EasySync is built for the Mac, so it understands all the Mac specific things that make Mac's special - files bundles show as bundles, not directories, etc. EasySync is also super secure - it's fully compliant with Apple's new "sandboxing" security standards.
EasySync has a wizard that performs most sync tasks with just one click - want to ignore all those irritating "Thumbs.db" files that come from Windows? - one click is all it takes. Need to ignore all the "DS_Store" files that Macs put in shared locations and are visible to Windows users? - one click is all it takes.
If your synchronization task is more complex, no problem. EasySync has a easy-to-use graphical rule editor that you can use to build up complex "recipes" for synchronization tasks. Need to sync all files with an extension of ".bak" created within the last two weeks and smaller than 4 kB? Easy!!! And of course, you can save recipes for later use, as well as share them with others.
For the ultimate power user, EasySync also supports file matching via wildcards and even full regular expressions.
EasySync takes the safety of your files very seriously. Firstly, EasySync will always provide you with a list of files tagged for sync before actually making any changes. You can then either approve or disapprove the whole list, or individual items on the list. Secondly, whenever possible, EasySync doesn't just delete files, it moves files to the trash, so that you can retrieve them later if necessary.